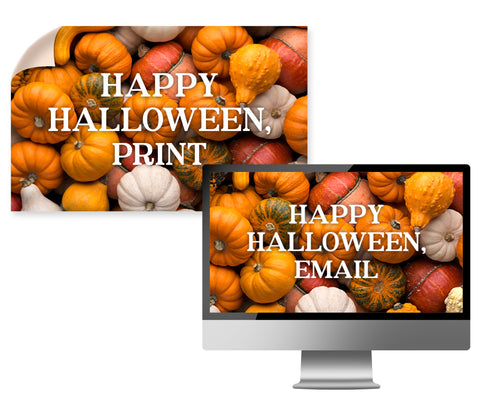 Examples
HALLOWEEN CARD Print & Email Bundle
These images are available as templates and when used with XMPie uImage software, can create an unlimited number of personalized images.
Personalization details: The recipient's name is written on a paper airplane. 
Requirements:
Adobe: Adobe CC 2021
XMPie: uDirect 10.2 and up, PE 10.2 and up
Template File: Photoshop
Dimensions:
High-Res: 2400 x 1500 pixels, 8" x 5", 20.3cm x 12.7cm @ 300 dpi
Low-Res: 576 x 360 pixels, 8" x 5", 20.3cm x 12.7cm @ 72 dpi
Email: 576 x 288 pixels, 8" x 4", 20.32 cm x 10.16 cm, 72 dpi
Download Size (MB): Print: 46.3 MB 
Fonts, not included: Postamt
Halloween Pumpkin Card Happy Greeting Orange Holiday Food Farm Harvest 100742 100850
---
We Also Recommend
---
Like our personalized images? Want images with your names?
To create personalized images, you must have XMPie uDirect. Download the trial version of our software to get started!